Stevedoring : comprehensive logistics services
A key player in ports around France : MARITIME KUHN specialises in stevedoring.
Thanks to the high degree of professionalism and specific knowledge of our local agencies and teams, we offer our clients port activities and services relating to both boats and merchandise, for both import and export, all around France.
Stevedoring : loading and unloading of merchandise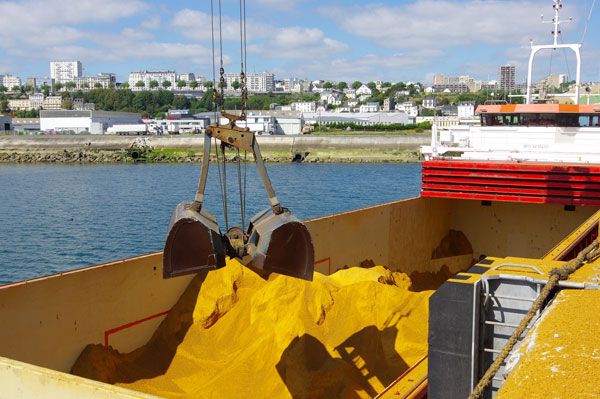 Our group, via its local agencies, covers all operations relating to loading and unloading, whatever the type of merchandise :
Raw material : bulk animal feed (soya, sunflower, etc.), industrial bulk (cement, etc.)
General cargo : fertiliser, heavy packages, unusual packages (wind / water power machinery, etc.), pallets
Containers (packing and unpacking)
We are active in all sectors of stevedoring and carry out all material operations relating to the loading and unloading of the merchandise to/from commercial ships, including transfer to storage in warehouse or on open land (handling on land).
Les moyens mis à votre disposition pour la manutention portuaire
The means that MARITIME KUHN and its teams offer for stevedoring are supported by a wealth of expertise and a wide range of technical equipment :
Port terminals (container and conventional)
Berths
400,000 m² of open land storage
200 000 m² of dockside warehouse space
Gantry cranes
Cranes, etc.