Heavy lifts handling in Brest
25 Jul 2020
Heavy lifts for the Landivisiau's combined cycle gas power plant unloaded in Brest harbour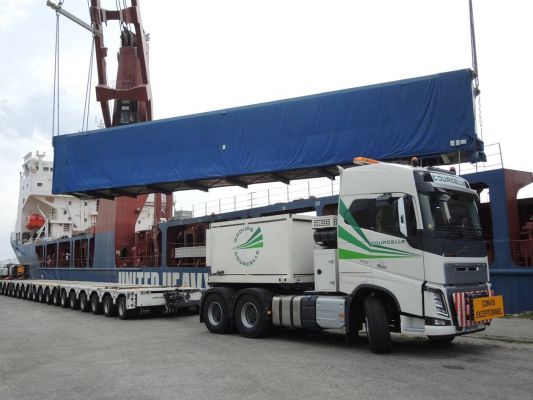 Photo credit Ouest-France
Free translation of Ouest-France article :
Since July 25, several cargo ships received by the UAT consignees have followed one another at the commercial port to unload heavy packages intended for the construction of the Landivisiau gas-fired combined cycle power plant.

Among the largest cargo landed : the one of MV UHL Flash which docked in the 5th East Basin with 2,500 tonnes of material in the hold. These are 12 packages, the heat exchangers of the plant. Weighing 190 to over 200 tons and measuring 28.85 m by 3.30 wide and 4.26 high.
They will leave on special trailers (20 axles of 8 wheels) to reach Landivisiau.

In the coming weeks, other ships will also come to port with other heavy packages.

The Landivisiau power station project responds to an electricity supply problem in Brittany. In particular, the insufficiency of the existing electricity production, in front of the increase in consumption. Under the control of the "Compagnie Électrique de Bretagne", owner of the plant, Siemens is responsible for engineering. Commissioning is scheduled for the winter of 2021-2022.