Sensitive operation in Brest harbour
17 Jul 2020
Unloading of six pales of windmill from the Netherlands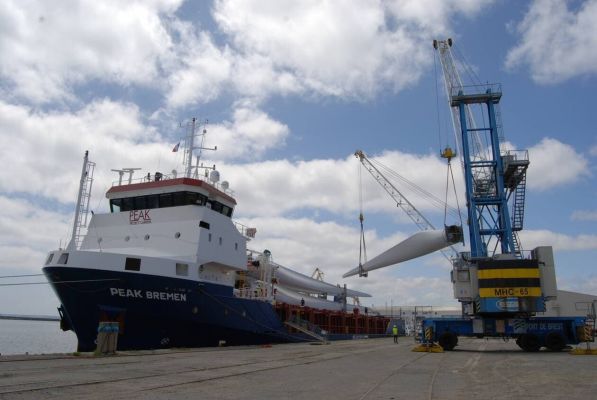 Photo credit Ouest-France
Free translation of Ouest-France article :
Coming from Moerdijk (Netherlands), received in Brest (Finistère) by Blue Water Shipping agents, the cargo ship Peak Bremen docked on Friday July 17, 2020 at the 5th North basin of the commercial port of Brest (Finistère), to unload six wind turbine blades 58 m long weighing 10 tons.

Delicate operation
The delicate operation was carried out using two cranes from the Brittany-West metropolitan chamber of commerce and industry (Ccimbo), as well as staff from UAT. The personnel of Nordex, one of the most important wind energy players in France, were also on site. Two other ships are expected in September to unload masts, nacelles and other components for wind turbines.

Launched in 2014 by the company Abo Wind during a feasibility study, this unloading concerns the wind power project at the Gurunhuel site, in the Côtes-d'Armor. This involves the installation of two latest generation wind turbines of 3 MW each, equipment 150 and 176 m high, with rotors of 114 m.

Built in 2011 by the Shipkits shipyard in Harlingen under the Dutch flag, the Peak Bremen, 90 m long, 14 m wide, and displacing up to 5,360 tonnes, belongs to the Norwegian company Peak Group, which operates around 20 of ships.